Korean Film Festival in Poland, Cathay sold to mm2 Asia, Thor: Ragnarok tops China's box office…
In news this week, seven Taiwanese films screened at the 2017 Taiwan Film Showcase as part of the 2017 San Diego Asian Film Festival. Programme featured most important Taiwan cinema titles of the year, among them Great Buddha+ (dir. Huang Hsin-yao), Mon Mon Mon Monsters (dir. Giddens Ko) and Small Talk (dir. Huang Hui-chen). The annual showcase 6th edition is held at the University of California San Diego (UCSD), sponsored by the university Chuan Lyu Foundation for Taiwan Studies, Taiwan Studies Lecture Series, the Taiwan Academy Los Angeles and Taiwan's Ministry of Culture.
Meanwhile, Korean Cultural Center in Warsaw organized 3rd Korean Film Festival which is the only event in Poland focusing on South Korean cinema. The festival featured twelve films, among them On the Beach at Night Alone (dir. Hong Sang-soo), The Villainess (dir. Jeong Byeong-Gil), The Wonder Years (2007) and Snow Paths (2011) – two productions directed by Kim Hee-jung, a graduate of the Poland's prestigious Łódź Film School. Among accompanying events there is a meeting with Kim Hee-jung.
After the failed attempt to buy Golden Village cinema chain in Singapore, mm2 Asia acquired the rights to Cathay movie theatres and its brand name for $230 million. The expansion of mm2 Asia into the Singapore cinema market follows a 2015 takeover of Cathay's movie theatre business in Malaysia. This marks the end of company that took part in the birth of Malay Peninsula's cinema, especially in its cradle, Singapore. For the past 80 years Cathay shaped and influenced local cinema, first establishing cinema chain, then moving into production of Malay and Mandarin language cinema as Cathay-Keris, creating such cult films like Pontianak horror series. The deal was signed with Cathay Organisation managing director Choo Meileen, the niece of Cathay legendary co-founder Loke Wan Tho. Choo sadly admits that the cinema business changed extremely, especially in recent years and the company cannot afford to maintain the 8 remaining cinemas as Singapore audience less and less often goes to the movie theatres.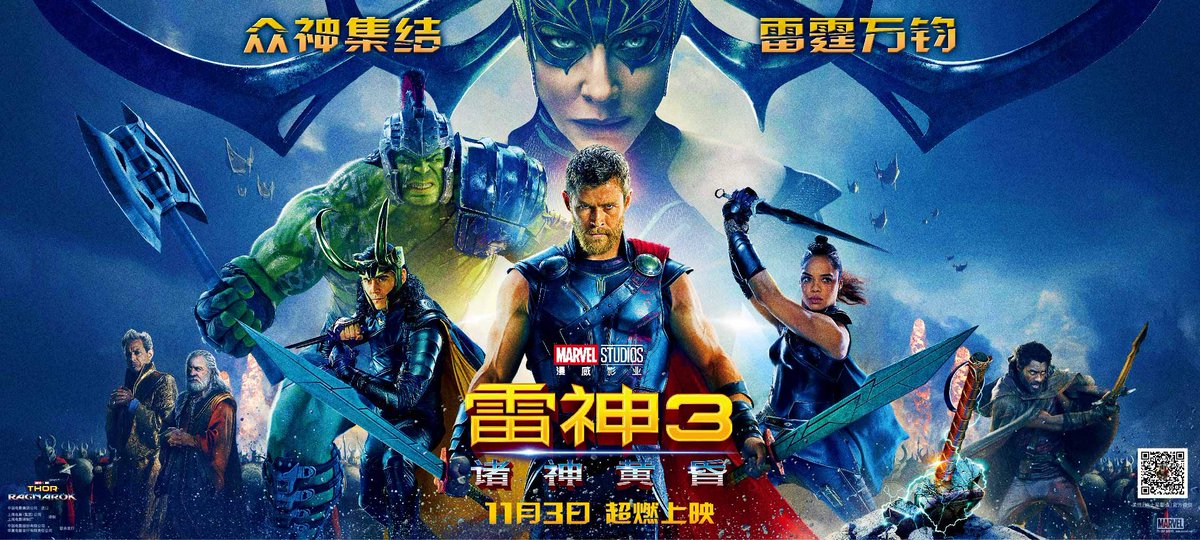 Disney/Marvel's Thor: Ragnarok tops the China's box office, winning over Johnny Depp and Daisy Ridley's Murder on the Orient Express. Thor's third installment has out-earned the final grosses of its two predecessors combined. Maybe it is owing to film director Taika Waititi's fresh take on the superhero series or the post-Golden Week slack season at the cinemas. Moreover Chinese audience has more and more interest in international cinema releases. After huge success of India's Dangal, Thailand production Bad Genius has brought in more than 221 million yuan ($33.3 million) after only 11 days in Chinese theatres. Story about math talents, stressful life-determining tests and dream to go study in the US is definitely the one that Chinese young movie-goers can identify with. Paired with cliff-hanging and emotionally engaging narrative, it is a perfect alternative to Hollywood blockbusters.
In production, Indonesian and Japanese film companies have collaborated in a fantasy drama film Laut (The Man from the Sea). Directed by Koji Fukada, the film is set to be released in Japan in early 2018 and Indonesia in mid-2018. Laut follows a story of a man (Dean Fujioka) who is stranded on a shore near Banda Aceh. After being found by local people, there happens a series of miracles until one unfortunate incident which raises suspicions concerning stranger's identity. Fukada said the film's story idea was inspired by 2011 tsunami that hit both Japan and Indonesia. It is a promising follow up to Fukada's Harmonium honoured with Un Certain Regard award at this year's Cannes Film Festival.
The trailer of the week is live-action adaptation of Fullmetal Alchemist directed by Fumihiko Sori. The film is set to premiere in IMAX and 4DX theatres across Japan on December 1, 2017.
Join us every Saturday for our regular digest of the week's Asian Film news!